Are you looking for somewhere epic to travel to this year? There are many things to do in St. Thomas that you need to consider as one of those destinations!
Are you planning your trip to St. Thomas last minute?
If youʻre booking your trip to St. Thomas last minute, we have you covered. Below are some of the top tours, hotels, and more!
Top Tours on St. Thomas and the USVI:
Turtle Cove catamaran snorkeling tour (Viator bestseller!)
Parasailing in St. Thomas (leaves from Sapphire Beach)
50′ Luxury Yacht Full or Half Day Rental (highly recommended!)
Cocktail sunset cruise from Sapphire Beach
Tree Limin' Extreme Zipline (goes through a rainforest!)
Charlotte Amalie: History and food walking tour
Kayaking and snorkeling (through mangrove lagoon)
Top Accommodation and Lodging in St. Thomas:
Luxury Beachfront Duplex Villa on Sapphire Beach (4-star)
The Breeze-A Boutique Villa Experience (3-star)
Point Pleasant Resort (4-star)
As summer approaches and you start to look for a reason to use your vacation, it's the perfect time to take a break from the monotonous routine of work, school, and other daily routines.
If you and your friends or family are looking for a place where you can do it all like visit historical sites, enjoy the beaches, shop, and eat the most exotic and delicious food you have ever eaten in your life, then St. Thomas is the island for you.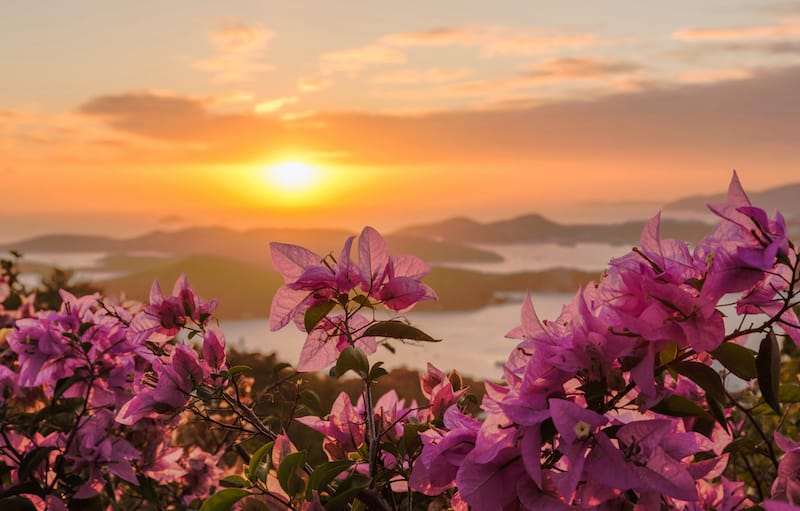 It is one of the most beautiful and scenic islands found across the world. Together with St. John and St. Croix, they form the entire district of the US Virgin Islands.
St. Thomas island is known as the gateway to the Caribbean and has several natural harbors and bays like Magens Bay, Jersey Bay, and Hendrik Bay.
Not only this, but it has many other tourist spots that you can visit if you are in the vicinity.
You can take one of these St. Thomas tours or travel the island independently – either way, it will blow your mind!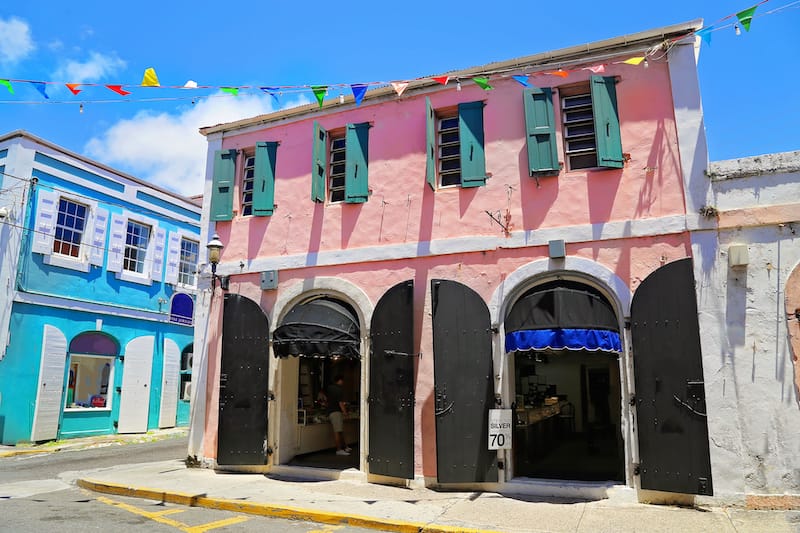 There is something to do at St. Thomas for everyone, making it a family-friendly and couple-friendly destination.
Whether you're looking for water sports to try, land-based activities, exploring historical sites, or just trying new things, you'll find it on this paradise-like island. Here are fifteen of the top activities you can do and must-visit places if you decide to visit St. Thomas.
Heading to another island instead? Be sure to check out the best things to do in St. John if it is on your itinerary!
Best Things to do in St. Thomas
1. Visit Magens Bay
Magens Bay is a renowned beach and park that is commonly visited by locals and tourists alike.
It is located on the Northside of the Island and is considered one of the most photogenic pieces of land that you can find in the entire United States.
The beach has pristine blue waters, white sands, and a view that will make your jaw drop. It is densely populated by tourists, so if you want privacy, visit either early morning or late in the afternoon.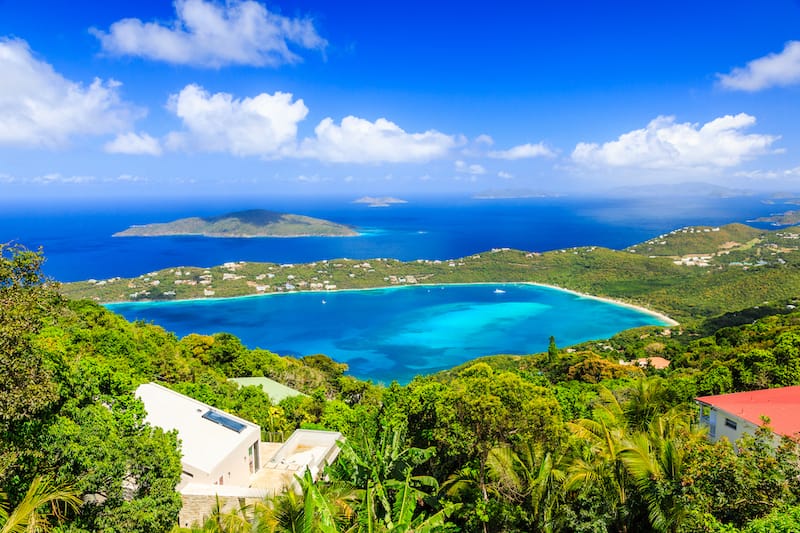 There are a lot of activities that you can do here. You can swim, kayak, and even go camping. There are kayak rentals nearby, so you don't need to bring your own equipment luckily.
If water sports are not your thing, you can visit the beautiful botanical garden or the coconut grove.
It also has a nature trail that goes through many ecosystems — tropical forests, mixed dry forests, mangroves, and the beach so you can see the magnificent land in its entirety.
2. Learn About Pirate History
If you're a Pirates of the Caribbean fan or you're curious about the mysteries that the great sea holds, then you need to visit Pirate Treasure Museum!
Located in Havensight, the Pirate Treasure Museum gives you a hands-on experience of pirate life. You will get interactive exhibits that will share the stories of the wilderness that lies beneath the incredibly blue waters.
The museum has a spectacular array of artifacts, and the best thing is, you can find many souvenirs and unique gifts that you can take back home.
You can even buy historical coins from different shipwrecks, playing cards, and pottery necklaces.
They also offer private party bookings so you can have privacy while you enjoy the place with your large group of friends or family.
3. Go Flying
If you want a scenic, spectacular, and thrilling aerial view of Saint Thomas and the other islands around plus the ocean, you need to go to Caribbean Buzz Helicopters!
It is located on Lindbergh Bay and accommodates all types of aerial needs, including airport transfers, tours, aerial photography, and much more. You can even get dropped off at other islands close by.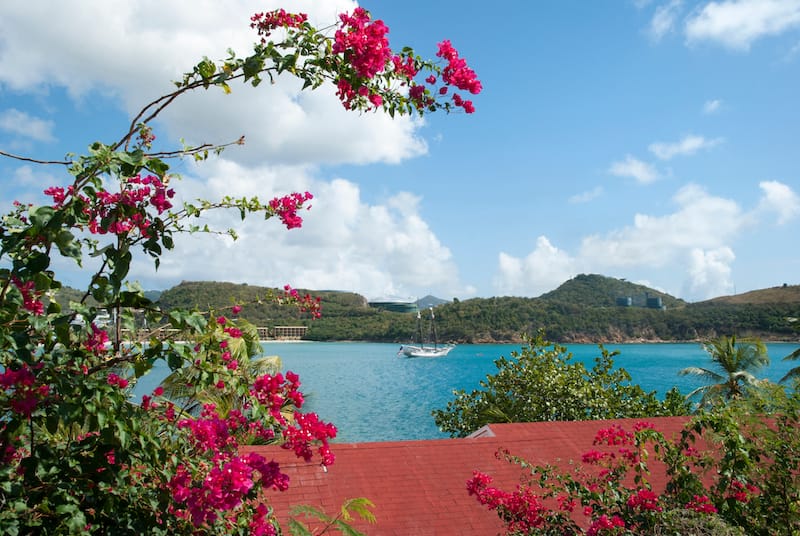 The crew is professional and highly trained, with more than 20 years of experience. If you are looking to make unforgettable memories that you will remember throughout your life and see views you wouldn't ever otherwise see, don't forget to visit this place.
4. Go Swimming / Snorkeling At The Secret Harbour Beach Resort
This beach-front complex is an ideal place to go snorkeling and swimming.
The Secret Harbour Beach Resort is only 7.5 miles away from Charlotte Amalie and consists of two restaurants, a secluded beach, and the PADI 5-Star Dive shop.
There are also suites featuring one of two bedrooms, a full kitchen, and a private patio or balcony. You can even pick this place up for staying. The place is known for watersports, boat trips, and impressive spa services.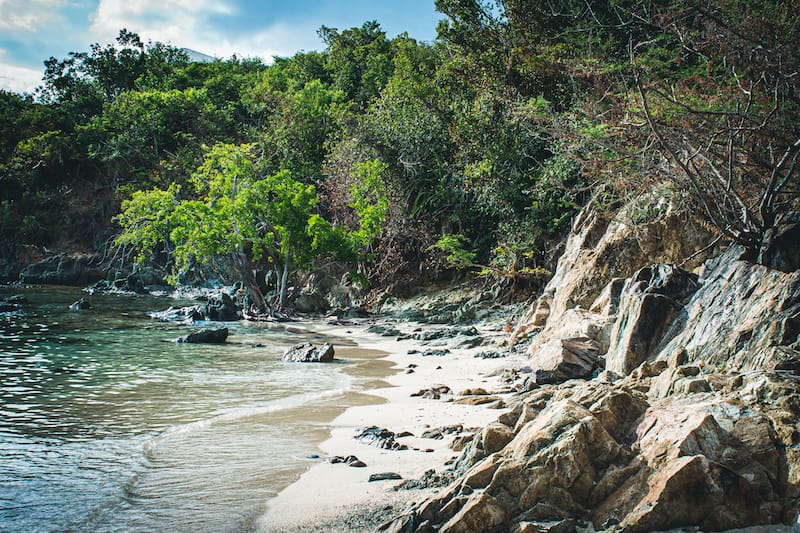 There is also a freshwater pool, a gift shop, and a tennis court on the resort, making it a perfect spot for a family staycation!
Another significant aspect of this place is that it is within the vicinity of two spectacular beaches — Lindquist and Sapphire Beach.
5. Visit The Mountain Top
Mountain Top is located on the highest cliff on the island. It is approximately 2100 feet above sea level and lets you have the best and the most spectacular view of Saint Thomas and the Caribbean waters.
Don't forget to bring a point-and-shoot camera to get the perfect picture from this amazing view.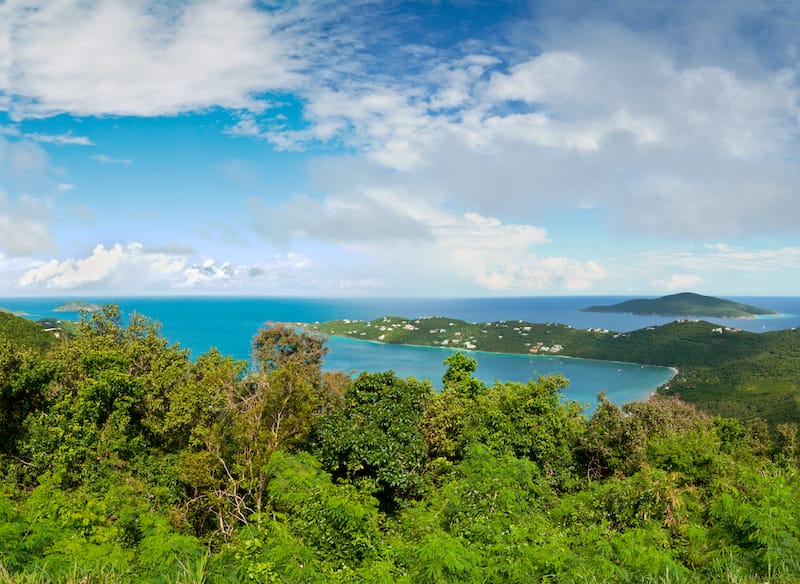 It is one of the most popular sites to go to if you love sightseeing. Furthermore, it has a small duty shop, a cafeteria, and a bar! It is perfect for a daytime visit so that you can see the blue ocean and the greenery.
You should also try the infamous banana daiquiri, which is a specialty of the place.
6. Grab Coffee at Virgin Islands Coffee Roasters
One of the essential things to do in St. Thomas is to stop by Virgin Islands Coffee Roasters for a quick caffeine boost and a takeaway souvenir bag of beans!
They freshly roast their own coffee in small batches and they strive to help upmarket establishments and their customer service is just as tasty as their coffee.
This is a wonderful place to stop in and chill out for a bit while supporting an independent business on the island.
Click here to check out their Facebook page.
7. Go Up The 99 Steps
99 Steps is one of the most distinguishable landmarks in Saint Thomas. 99 Steps is located in Charlotte Amalie, which is a cruise ship port and the capital of the island.
The steps pass through almost all of the hills that rise from the harbor area of the city.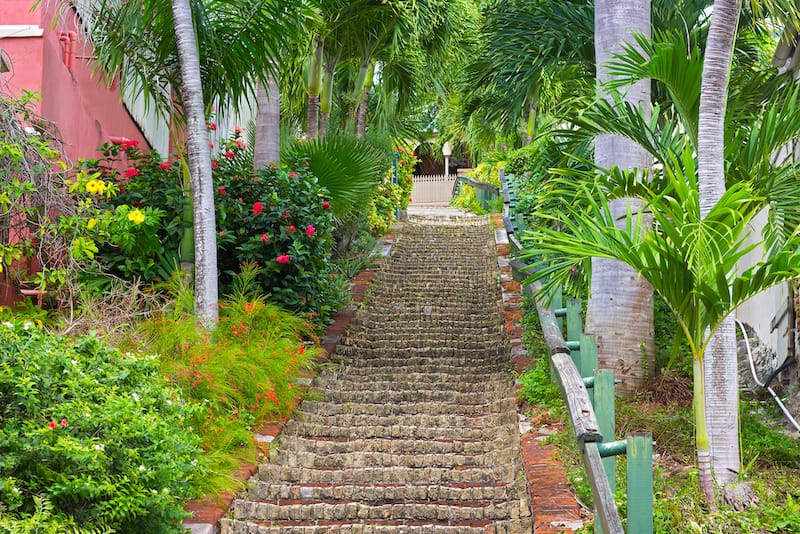 It was built in the 1700s and has been famous ever since. These were constructed from ballast bricks of the ships that came from the old world and used to make travel around the island much easier.
8. Check Out Drake's Seat
Drake's Seat is another sightseeing point that you will find on the Island. It overlooks the entire land and offers a panoramic view of the great Magen Bay and the Virgin Islands on the east side.
It is named after Sir Francis Drake who was a 16th-century pirate and explorer. He used to watch the ocean from here and inspect the various Spanish ships that left the port so that he could later attack and loot them at sea.
The exceptional viewpoint is worth capturing and putting on your Instagram feed if that's what you're looking for.
9. Skyride to Paradise Point
Another way to get the best scenic view of the island is through a cable car! Skyride to Paradise Point is located just across the Havensight Cruise Ship Dock.
It takes you 700 feet up to a place called 'Paradise Point' where you can view the entire Caribbean.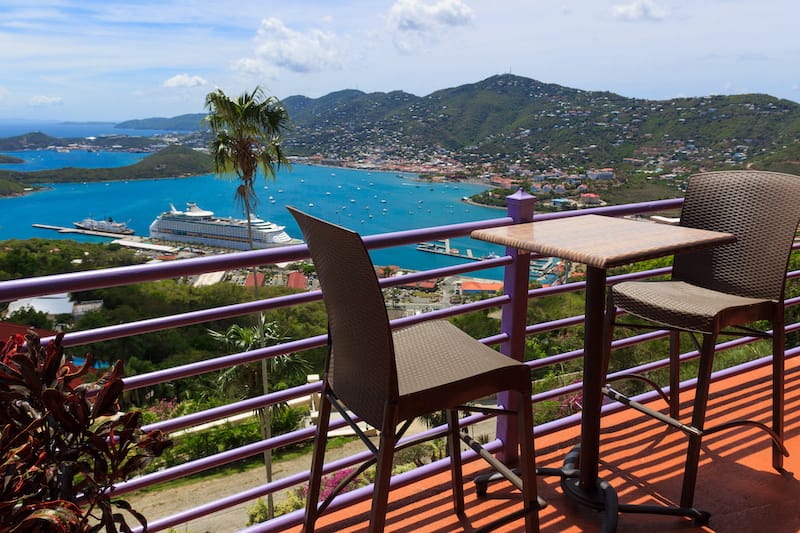 It is perfect if you want to see most of the island and the ocean. When you reach the top, you can taste some of the world's most sumptuous cuisines, as well as the famous Banana Daiquiri.
You can play with parrots as well. You are able to take a car or truck up to Paradise Point, although the cable car is a much more exhilarating experience.
10. Go Ziplining
You can go ziplining at the Zipline park situated in the gorgeous rainforest of Saint Peter Mountain.
The zip-line is completely safe and gives you an incredible view of the forest, the island, the bay, and the ocean.
It is perfect for all the people who love an adrenaline rush and are always up for an adventure.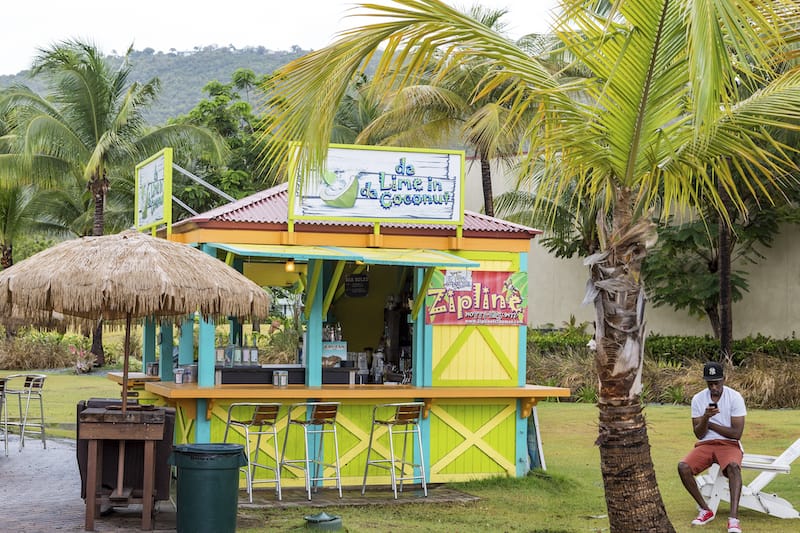 The best thing is that anyone can try it, except for children under five years. Whether you are with your parents, children, or friends, you can visit the park and have a fun-filled experience you will remember.
11. Visit Red Hook
Red Hook is a small town that is present on the east side of the Island. It features red-tiled roof houses and many businesses that line up on the coastline.
Red Hook is the perfect place if your main intention is to party and witness the nightlife of St. Thomas.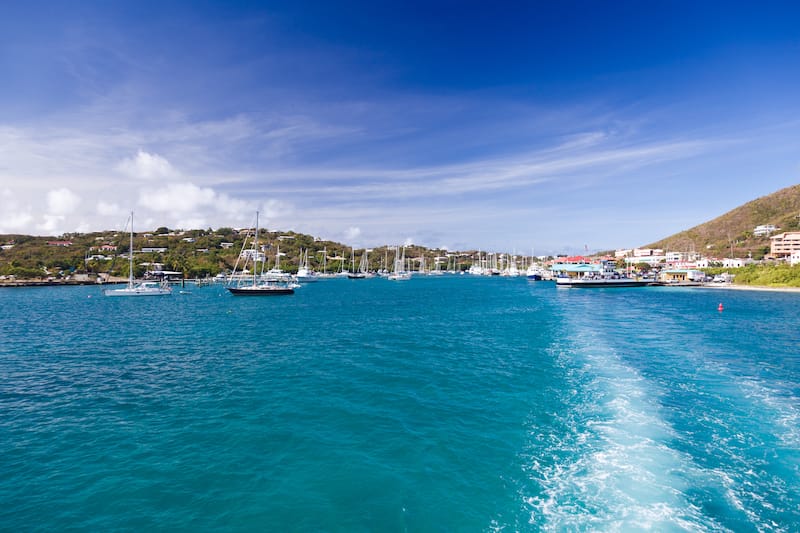 You will find many restaurants that serve mouthwatering, tasty food and bars with great music and a fun atmosphere all around the town. If you're lucky, you might even see a rock band performing live in one of the many bars.
12. Visit the Aqua Marine Dive Center
If you love to dive or want to dive and see the underwater life of the Caribbean, then you need to visit the Aqua Marine Dive Center. It is located at Bluebeards Beach Club.
The diving experience is exceptional. Your tour guide/ dive instructor will take you along to see all of the major shipwrecks and coral reef structures in the sea.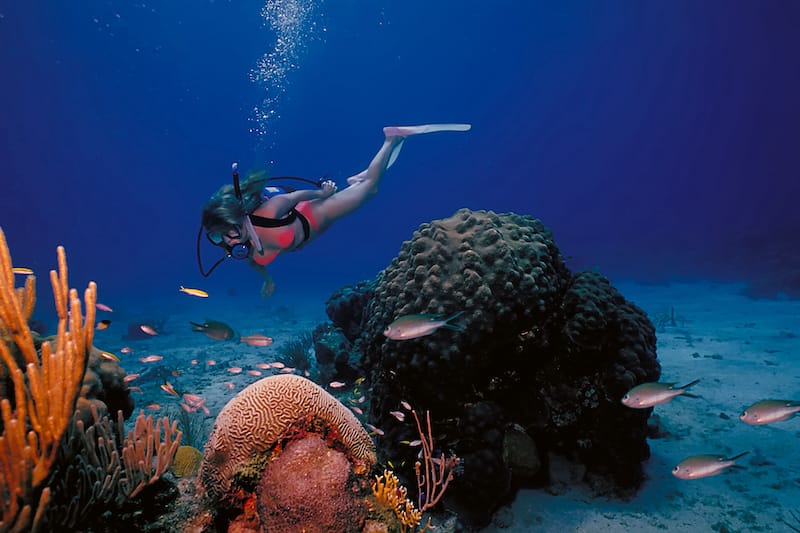 You can also go yachting or boating or put your gear on and swim. If you love fishes and turtles and want to get a hands-on experience of aquatic life, then make sure to visit this place.
13. Explore the Phantasea Tropical Botanical Garden
This beautiful Botanical Garden is located in Lerkenlund in Saint Thomas. The Phantasea Tropical Botanical Garden is one of the best eco-attraction in the area.
It features different plants such as Orchids, Bromeliads, Heliconia Ginger Costus, Succulents, Palms, and Aroids in a tropical botanical setting.
Furthermore, it also offers scenic views of Saint John, Tortola, the cruise ship harbor, and Magens Bay.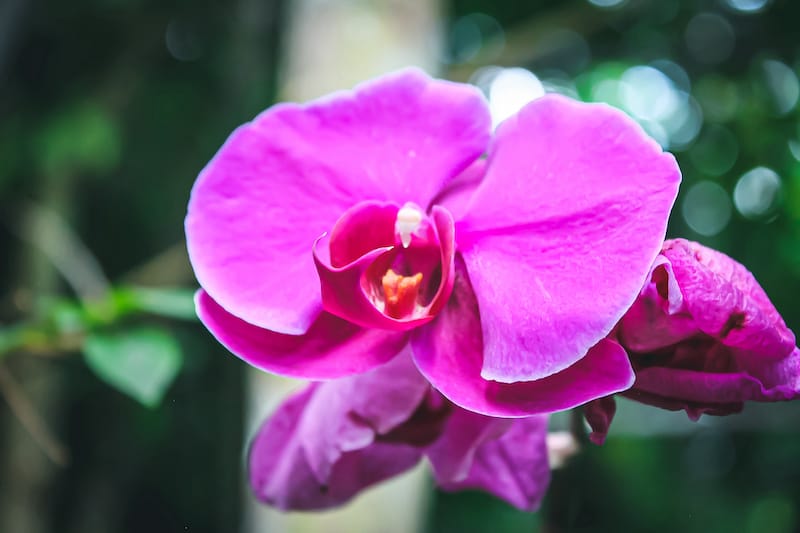 The garden is spread over two acres, and typical visits last from 45 minutes to an hour. You can also get different snacks and drinks to keep you energized and hydrated along the way!
There are also a few Orchids and TIllandsias, which are a type of air plant that you can buy as a souvenir or gift for someone.
14. Go Shopping At Main Street, Charlotte Amalie
Main Street, Charlotte Amalie is the perfect destination for all shopaholics.
Saint Thomas is known as the best place to shop, so if you are looking to buy a few new clothes or gifts for your family and friends back home, then visit Main Street in Charlotte Amalie.
You can get different perfumes, expensive diamonds, top-notch electronics, different alcoholic drinks, and anything else that you can think of.
It is very popular and always bustling with life, especially during the late morning and early afternoons.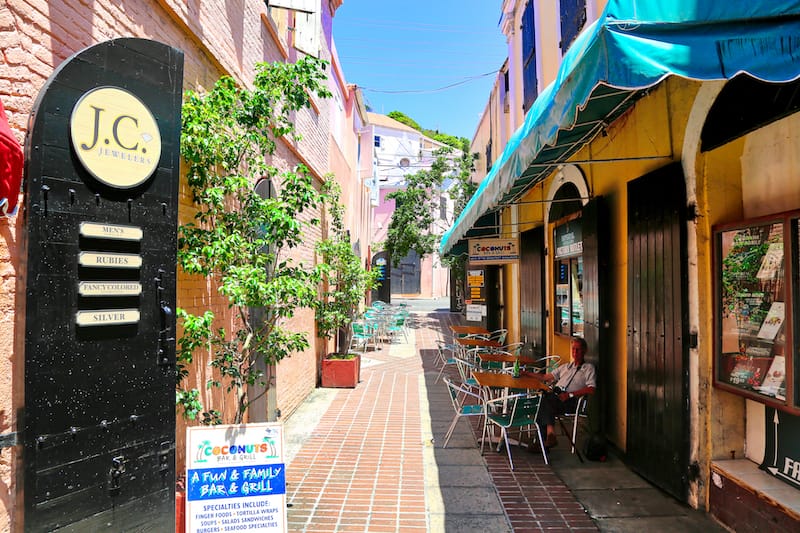 Many tourists and visitors suggest that it is best if you go early in the morning.
The street usually starts crowding up around late morning. It is also better if you are on your feet because there are a few road constructions as well, which make the street even more cramped.
However, there are a few shops that close as soon as the sun sets, so keep that in mind as well.
15. Explore Blackbeard's Castle
NOTE: Sadly, this site is temporarily closed due to the destruction from Hurricane Irma in 2017.
They are still in the rebuilding process and you can see the tower (most damage was to the roof) but you can not tour or go inside currently. We will continue to update you when we see something change!
Blackbeard's Castle is one of the five National Historical landmarks that are located in the Virgin Islands. It is found in the city of Charlotte Amalie.
The Castle used to serve as a vantage point that Danish soldiers used to spot enemies. It was initially known by the name Skytsborg, which roughly translates into protection castle.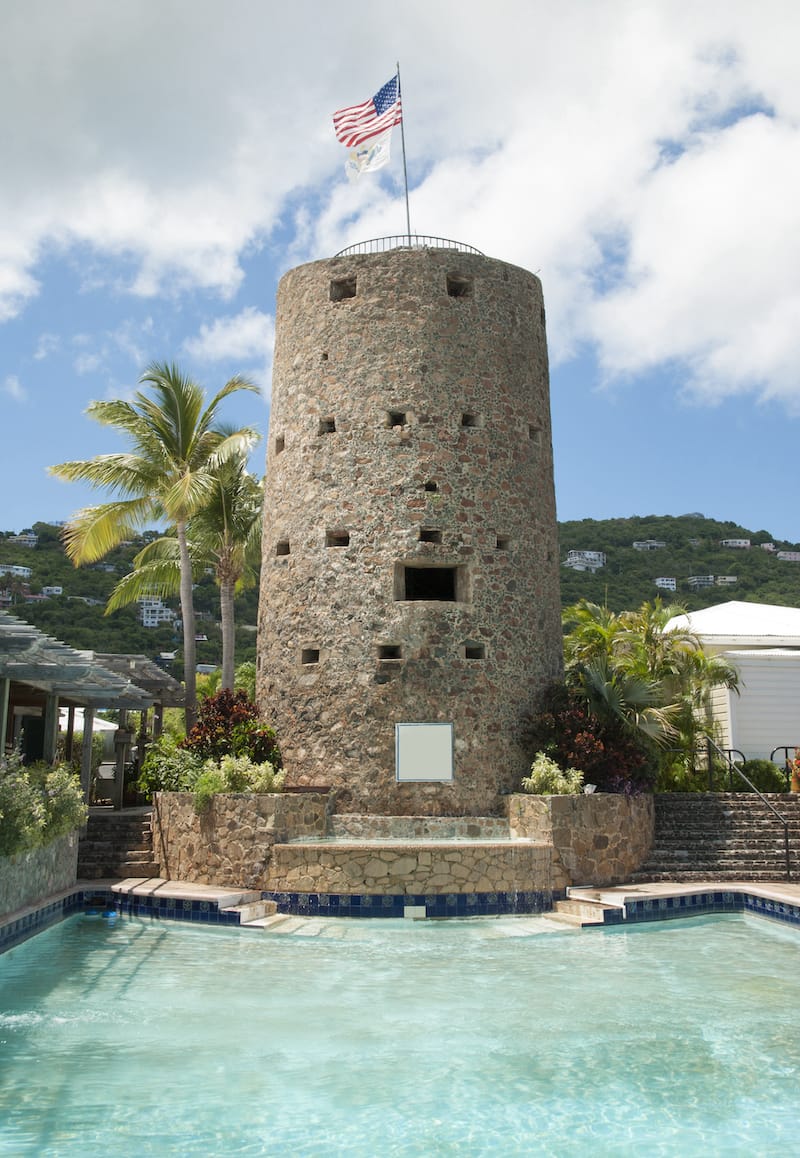 It is located at the highest point of a hill called Government Hill. It is spread over five acres and contains many sites and historic properties that were built in the 17th century.
So if you want to get to know the historical significance of the island, then start from here.
Where to Stay in St. Thomas
Many people head to St. Thomas by cruise but if you're looking for a place to stay overnight, here are some of the top-rated options!
Luxury Beachfront Duplex Villa on Sapphire Beach V (4-star)
The Breeze-A Boutique Villa Experience (3-star)
Point Pleasant Resort (4-star)
Written By: Martin Soto who runs TravelExplorator.com, where he provides all sorts of travel tips gained from his experience traveling across the United States.
Pin this St. Thomas Things to Do Guide