The cryptospace has come a long way from being limited to only primitive cryptocurrencies such as Bitcoin and Ethereum. The space has been liberal enough to host a plethora of projects from varied sectors with and without utility. Successively, meme coins from the business have garnered the interests of the masses.
The top meme coin Dogecoin is the first one to woof when it comes to meme coins. Launched in the December of 2013, the digital token has garnered immense popularity. With liking from celebrities, billionaire investors, and social media savvies. The canine coin has seen a number of adoptions and acceptances by renowned brands and firms.
That said, investors are still keen on DOGE, despite emerging rivals such as Shiba Inu, and have been pondering over its future prospects. Are you keen on the price predictions of Dogecoin? Join in as we dive into the possible price projections of the meme coin for 2022 and the years to come.
Overview
| | |
| --- | --- |
| Cryptocurrency | Dogecoin |
| Token | DOGE |
| Price | $ 0.0600 |
| Market cap | $ 0.0000 |
| Circulating Supply | 0.0000 |
| Trading Volume | $ 0.0000 |
| All-time high | $ 0.0000 Jan 1, 1970 |
| All-time low | $ 0.0000 Jan 1, 1970 |
Dogecoin (DOGE) Price Prediction
| | | | |
| --- | --- | --- | --- |
| Year | Potential Low | Average Price | Potential High |
| 2022 | $0.06224 | $0.07509 | $0.08836 |
| 2023 | $0.07965 | $0.11821 | $0.15842 |
| 2024 | $0.13728 | $0.19976 | $0.26576 |
| 2025 | $0.2277 | $0.32919 | $0.4497 |
DOGE Price Projection In 2022
Dogecoin had made its way to 2022, with a trading price of $0.1701. Continuing its southward momentum from the previous year. The meme coin saw a fall to its support of $0.1365 on the 10th of January. However, it portrayed a quick "V-shaped" rebound, with the wick brushing $0.2147 on the 14th of January.
The spike was short-lived, as DOGE plummeted below its support to the bottoms of $0.1208 on January 22nd. Following which the asset moved sideways, sticking closer to its support levels until the 3rd of February. When it spiked to $0.1732 on the 7th of February.
However, turbulence in the business led to a downswing, when it breached the quarterly low of $0.107. By the end of the quarter, DOGE's price had managed to climb to $0.1459. The second quarter has been brutal for the industry, the implications of which have reflected on the price of DOGE. The canine coin has slipped from its second quarter's high of $0.179 to press time levels of $0.05951.
Dogecoin Price Prediction For Q3
If the meme coin carries forward the third quarter, with bullish trends. Further impetus such as major acceptance and adoption, could propel the price to its potential high of $0.06473. On an optimistic note, according to Into The Block, 2.04 M addresses are In the Money, whereas 1.84 M addresses are out of the money. While the average price could stick around $0.06100, bears could clutch down the price to $0.05685.
DOGE Price Prediction For Q4
If the coin gets listed on newer familiar cryptocurrency exchanges, the price could soar to close the year at $0.08836. Howbeit, regular buying and selling pressures would leave the price at an average level of $0.07509. That said, if the sentiments fall prey to the bears, with concerns around utility and value. The price can possibly slump to $0.06224.
Dogecoin's Price Forecast For 2023
Dogecoin price is expected to gain major traction in 2023. As the meme space would become trader's favorite to fight potential inflation threats. The possibility is further justified, as the average time token is held, is an astonishing 1.8 years. Hence, by the end of 2023, the meme coin would hit $0.15842. That said, a possible crisis in the business could dump the price to $0.07965. Successively, the average price could settle at $0.11821.
DOGE Crypto Price Prediction For 2024
If the team behind Dogecoin rollout developmental upgrades and real-life use cases. The canine coin could fare up against industry leaders. In such a case, DOGE's price could pounce to its potential high of $0.26576. On the flip side, the ebbing stance of meme coins and diminishing volumes could slash the price down to $0.13728. That said, a balance in buying and selling pressures could land the price at $0.19976.
Dogecoin Price Prediction For 2025
An increasing FOMO with influencer promotions towards Dogecoin may impact the price to heat up to $0.4497. Secondly, if DOGE could survive with a substantial growth rate. In a highly competitive space in the future, the averages shall strike at $0.32919.
On the other hand, if aspects of the crypto like zero staking rewards and not much functionality impact the market. Then the price might slide to its potential low at around $0.2277.
Click here to read our price prediction on Shiba Inu!
Market Analysis
Digital Coin Price:
According to Digital Coin Price, Dogecoin's price could rise to a maximum of $0.0730 by the end of 2022. The firm expects a reversal in trends to drag the price down to $0.0511. That said, a balance in buying and selling pressures could land the price of DOGE at $0.0609.
Gov. Capital:
As per the revised Dogecoin price prediction by Gov. Capital, Doge is forecasted to hit a maximum price of $0.05336, in 2022. On the downside, it expects DOGE to drop to $0.03944. That said, the token is expected to trade at an average price of $0.0464. Gov. capital predicts DOGE to trade at an average price of $0.474 by 2025.
Trading Beasts:
As per Trading Beast's DOGE price prediction, the meme coin is forecasted to close the trade for 2022 with a maximum target of $0.1059. The firm pins minimum and average targets at $0.07203 and $0.08474 respectively. Trading Beasts predicts the maximum targets for 2023 and 2025 at $0.11425 and $0.1611.
Wallet Investor:
Wallet Investor expects DOGE price to close the annual trade for 2022 with a potential high of $0.1082. The analysts from the firm anticipate the average target to be around $0.0340. That said, the average target for 2023 is foreseen at $0.0260.
What Is Dogecoin (DOGE)?
Dogecoin is a user-friendly cryptocurrency project launched on December 06th, 2013. It was forked from Litecoin and is widely supported by many wallets and exchanges. The main use case is for making payments and recently it has also been used as a tipping coin. For rewarding small tokens to people during social media interactions.
Dogecoins are inflationary coins while Bitcoins are deflationary coins. This is because Bitcoins have a limit on the number of coins that will be produced and used for mining. On the flip side, dogecoin does not have any such limits and so is inflationary, which adds to its advantage. 

Company Details
View Details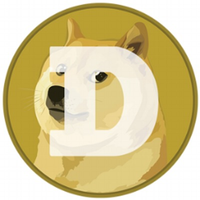 Dogecoin
Dogecoin is an open-source P2P cryptocurrency, which is based on the popular meme of a dog breed Shiba Inu. Dogecoin was created by its founders Billy Markus, Oregon, and Jackson Palmer. The meme-based coin was forked from Litecoin in December of 2013. And was foreseen as a fun, light-hearted cryptocurrency. DOGE was essentially used for tipping on Reddit and Twitter in order to reward the creators for sharing quality content. The meme coin is now accepted by a number of brands in exchange for products and services. Conversely, the working principle of Dogecoin is distinct from that of Bitcoin's Proof-of-Work, in multiple aspects. One of which is by using "Script Technology". Dogecoin has a block time of 1 minute, and the total supply is uncapped, meaning an infinite number of coins can be mined. This has been one of the reasons for stagnant price action. Other reasons include the lack of upgrades and developments, ever since 2015. However, the Dogecoin community continues to remain stout despite the persistent negative criticism.
Fundamental Analysis
Following the massive success of bitcoin, dogecoin was launched in the December of 2013. In a mere one month, there were over a million visitors to the official website. Which started with a price of $0.006, and now poses an ROI of 15235.76%.
Dogecoin was created by Billy Markus, Oregon, and Jackson Palmer   . It was introduced as a joke, but who knew it would become so significant in the crypto world. It is also used by retailers to receive payments across authorized merchants!
CoinPedia's Dogecoin Price Prediction
The fact that Marketers are quite optimistic about the project and celebrities hopping legs. Can drive Dogecoin into a value that everyone would awe at. According to Coinpedia's formulated Dogecoin price prediction for 2022. If its trading volume rises further, then we can expect the DOGE price to surge to $0.08 as the year ends.
On the other hand, if the market is hit again by external forces like regulations or negative statements by influencers. The meme coin might trade at a potential low of $0.062. That said, a balance in buying and selling pressures could land the price at $0.075.
Historical Market Sentiments
2013
Dogecoin made its debut in December 2013 at $0.0006 with a market capitalization of $3.5 million.
For a year, Dogecoin was on an upward trajectory and doubled exponentially.
2014
The year 2014 was not generous for Dogecoin, as new cryptocurrencies such as NEO, Stellar, and Monero emerged in the market.
As a result of which, DOGE's price fell to $0.0001.
2015
Co-founder Jackson Palmer quit the project unexpectedly in 2015.
With the news, the world began to speak of DOGE's impending death.
However, this did not happen, as DOGE managed to trade at $0.00014 by the end of December 2015.
2017
Dogecoin did not cross the $0.0002-0.0003 price range until 2017.
The value of the coin rose dramatically to $0.003 in the spring of 2017 and further continued to vary.
Surprisingly, DOGE surged to $0.007 by the end of 2017.
2018
Dogecoin price declined amidst the tightening of cryptocurrencies across South East Asian countries, but it recovered quickly to hit $0.017.
Later the price declined to $0.002 in April. The price slightly recovered to $0.006 by September.
DOGE dropped again to $0.002 to end the year 2018.
2019
The altcoin traded sideways in 2019 for much of the year.
Minimal surges escorted the market price up to around $0.004 around July.
But later lost much of these returns by the end of the third quarter.
By the end of December 2019, Dogecoin was trading at $0.0020.
2020
Dogecoin continued its trade at $0.002 during the start of January.
With a steady improvement, the price managed to reach $0.003 by mid of February.
With certain price variations, Dogecoin hit $0.004 by July.
DOGE started an upward trajectory amidst the expansion of Bitcoin's price rally in and ended the year at $0.004.
2021
DOGE price initiated the yearly trade on a bullish note and continued to trade at $0.007. 
The popular meme coin gained immense attention. When it surged over 800% and dumped nearly 300% in a single day. 
Later following a series of events and support from Elon Musk   , DOGE surged over 15,000%, to an all-time high of $0.74 on 8th May!
The SNL event led to the meme coin's plunge. This was further aggravated by the market crash that left the price at $0.22 on the 19th of May. 
The second quarter was closed at $0.246. During the Q3 of 2021, the meme coin was consolidating within $0.2.
Dogecoin had terminated the year with a price tag of $0.168. 
To read our in-depth price prediction of Bitcoin click here!
FAQs
Is Dogecoin a good investment?
Yes, Dogecoin might definitely be a good investment, if you are looking to invest for the long term.
Is Dogecoin a dead investment?
No, Dogecoin is not a dead investment right now, the peaks and troughs are normal in the cryptocurrency industry. Major announcements and happenings will eventually drive the price.
How high can the DOGE price go by the end of 2022?
The price of DOGE could possibly claim the $0.08836 mark by the end of 2022.
Will the Dogecoin price hit $1 in 2025?
According to our DOGE price prediction, the meme coin might hit a maximum of $0.4497, by the end of 2025.
How to buy Dogecoin?

Dogecoin is available for trade across prominent exchanges like Binance, OKEx, HitBTC, Thodex, and VCC Exchange, amongst others.
To read more news, click here.